FIREMASK SQ-2300 chống cháy 2 giờ (120 phút)
Lưu ý: sản phẩm này là gốc sơn dầu, loại sơn này khác với các sản phẩm hãng sơn khác.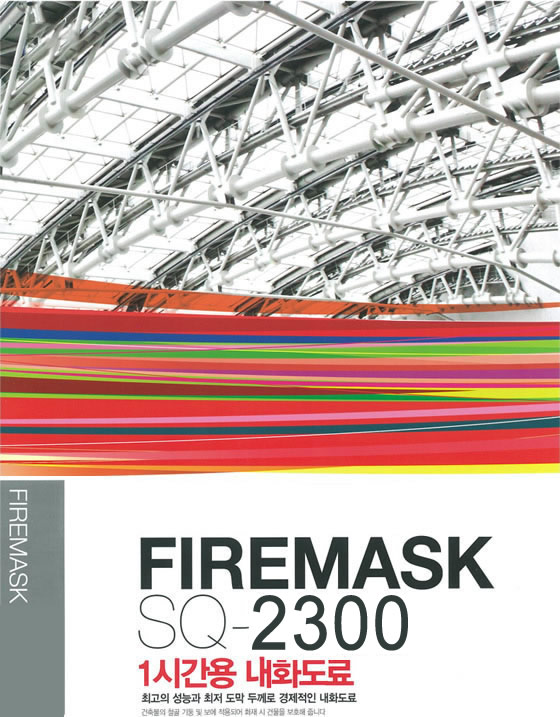 Mục đích sử dụng : Sơn phồng một thành phần sử dung cho hệ sơn chống cháy 1 giờ và 2giờ
Hạn chế : Không sử dụng cho mục đích khác ngoài mục đích trên
Thông tin nhà phân phối: Công Ty Đại Mộc Thủy
Địa chỉ sản xuất nguyên liệu : Wanju_Gun, Jeollabuk-do, Korea
Định mức sử dụng chống cháy:
Chống cháy chịu được 1h (60 phút) sơn 1lít = 0,78 m2

Chống cháy chịu được 2h (120 phút) sơn 1lít= 0,28 m2
Màu sắc: Màu trắng ngà như hình
Khi có lửa cháy sản phẩm này phồng nở lên gấp 10 lần độ phủ dày của lớp sơn, Nó không bị cháy mà chỉ có hiện tượng bốc khối.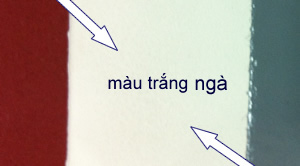 Có tất cả tài liệu, thông số kỹ thuật, chứng chỉ của tập đoàn Hàn Quốc
INTUMESCENT PAINT FIREMASK SQ-2300
Intumescent paint FIREMASK SQ-2300 is a middle coat for Beams in solvent-borne anti-fire paint to provide fire-protection for plants or facilities that have a steel structure and handle flammable materials.
FIREMASK SQ-2300 is approved with its superior heat insulation ability by Korea standard test for 2 hour intumescent paint under license of Ministry of Land, Transport, and Maritime Affairs.
Recommended use : Middle coat for beams in anti-fire paint to provide fire-protection for plants or facilities having steel constuction.
PHYSICAL PROPERTIES
Finish and Color : Flat / White
| | | |
| --- | --- | --- |
| Drying Time | 5°C | 20°C |
| Set to touch | 5 hours | 2 hours |
| Dry hard | 24 hours | 12 hours |
Nonvolatile : Approx. 70   2 % ( KS M 5000 )
Spreading Rate (Theoretical) : 5.63 L/m2 in 3,600 microns dry film thickness on a smooth surface.
Specific Gravity : Approx. 1.3(Kg/L)
Flash Point : 25°C  (hermetically)
APPLICATION DETAILS
Surface Preparation   
* Remove old paint film, dust, oil and grease, other contaminants.
* As a rust protective primer :
– KOREPOX PRIMER EP170,
– Red-lead based paint KSM 6030-1,
– Inorganic zinc primer GALVANY IZ180N,
– organic zinc primer KOREPOX ZINC RICH PRIMER EZ175.
If GALVANY IZ180N is applied as primer, mist coat will help to avoid popping of the subsequent coat.
As a mist coat : Korepox Holding Primer EP170QD (DFT : approx. 100).  Thinning ratio : 50-60% by volume(THINNER:No,002)
Application Conditions
The surface must be completely clean and dry.
Do not apply when relative humidity is above 85%.
The surface temperature must be at least 3°C  (5°  ) above
the dew point to prevent condensation.
Thinning
Summer season(THINNER No. 002),
Winter season(THINNER No. 003)
Apply after mixing for 5 min. with Hand-Mixer(above 200rpm)
Methods of Application
Brush, Roller and Airless Spray (air or airless) application.
For airless spray application ;
Nozzle orifice   : 0.027″ ~ 0.033″

Output pressure :   1,800 ~ 2,200 psi / 120 ~ 150 atm.
Fan : 30° ~ 60°
Thinning : Max. 3% by volume
(Airrless spray data are indicative and subject to adjustment.)
Film Thickness
Recommended per coat 1.410 microns wet film(Apply 4 time)
Recommended per coat 1.130 microns wet film(Apply 5 times)
Recoating Interval
At 20°C  /68°F  , below 80% R.H, under well-ventilated condition
Minimum : 24 hours
In highly humid conditions(ex. In heavy rain), recoating
interval can be extended as delayed period.
Subsequent Coat
KOTABOR ENAMEL RT546, KORATAN TOPCOAT UT6581(H1), KOREDOM READY-MIXED PAINT LT416, FIREMASK TOPCOAT or according to speacfication.
Top coat must be applied in 3 days(in summer) and 7 days(in winter) of the last mid-coat spay..
Impossible for exterior application (If unavoidable, inquire of our company).
Shelf Life : 12 months (Store in dry, well-ventilated place, indoors between 5 ~ 35°C)
Packing Unit : 18L and 5L
Remarks:
Avoid the cause of fire and direct sunlight during storage.
Apply after adequate mixing.
Protect skin and eyes, and void prologonged breathing of Solvent Vapors.
Use with adequate ventilation.
Respiratory protection is recommended when applying.
Keep containers closed when not in use.
Keep coating utensils after washing several times with Thinner.
Issued Nov, 2010
Khi khách hàng mua sản phẩm chúng tôi có kèm theo tài liệu, thông số kỹ thuật, chứng chỉ của tập đoàn Hàn Quốc
–